Ms. Trần Phương Hoa, currently working at An Bình Commercial Joint Stock Bank (ABBANK) as a Director of Digital Partnership Development, is a student in the 2nd Cohort, Master's program in Banking, Finance, and Financial Technology (Fintech) at IFI. In a recent conversation, she disclosed the decision to pursue a Master's degree in Fintech at IFI and her concerns back in the early days as a fresh banker.
In 2005, after graduating with a Bachelor's degree in International Business Economics, one of the "leading" majors at a top-ranked university in Hanoi, Ms. Hoa started her first job in the field of Banking, a highly competitive and popular field in the 2000s. At present, she has nearly 18 years of experience working and valuable knowledge in the banking and financial sector.
Good morning Mrs. Phương Hoa, it's a pleasure to meet you. Could you please introduce yourself to our readers so they can get to know you better?
Hello, IFI-ers! My name is Trần Phương Hoa and I am a student in the 2nd Cohort of the Master of Fintech program. I currently work as a Director of Digital Partnership Development at ABBANK, An Bình Commercial Joint Stock Bank. I was so thrilled to receive an invitation to share my career journey and the lessons I have learned from my teachers at IFI.
I see myself as someone who values freedom and creativity. In my work, I prefer to approach challenges in innovative ways rather than following a set path. I believe this is essential for my role. As a manager, I need to be a pioneer and stay attuned to new trends in the digital banking market, guiding my team towards further growth.
In my free time, I enjoy activities that allow me to express my love for freedom and exploration. I am passionate about traveling, especially experience tourism, and love discovering new places, capturing beautiful moments, and keeping up with the latest fashion trends.
Is this a field you have been pursuing since your student days?
When I just graduated, working as a banker was not really my type (laughs). Perhaps because the financial and banking industry was dominating the job market at that time.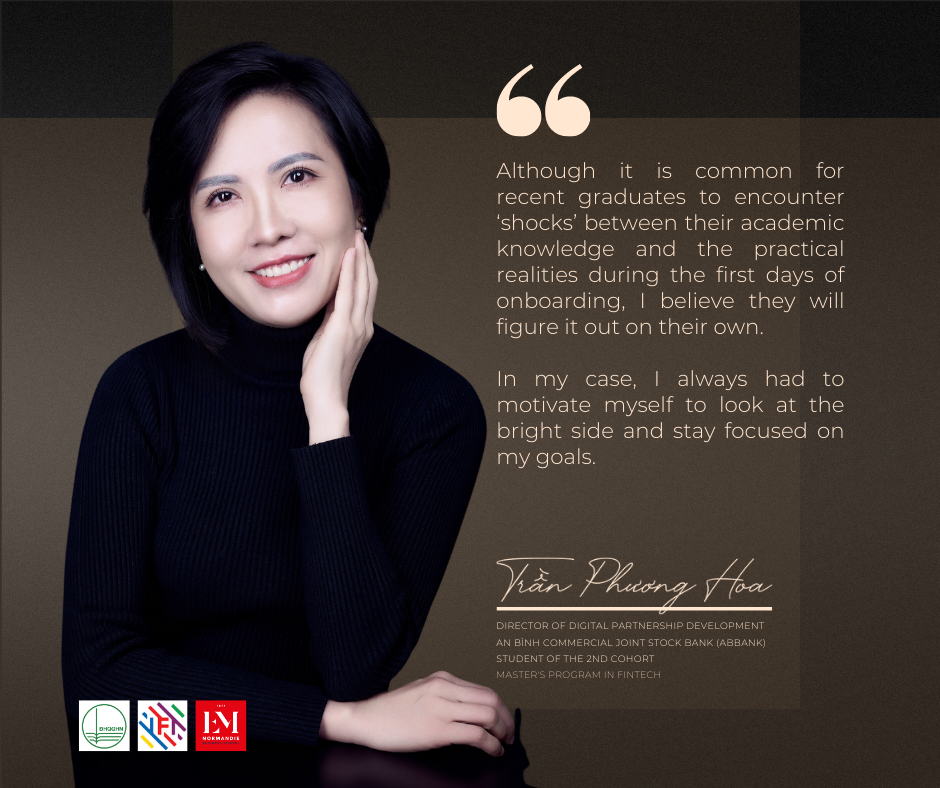 During those years, what difficulties did you face at work and how did you overcome them?
I started my first job as a Corporate Client Specialist. I faced some challenges that come with being new to a career. Although it is common for recent graduates to encounter 'shocks' between their academic knowledge and the practical realities during the first days of onboarding, I believe they will figure it out on their own. In my case, I had always to motivate myself to look at the bright side and stay focused on my goals.
After going through many positions, when did you decide to pursue a Master's degree?
My interest in Fintech was sparked when my former boss decided to switch from banking to Fintech after more than 20 years in the field. I was so intrigued by the potential of Fintech which combines finance and technology. I see that this field can create breakthroughs in the financial services industry and improve the customer experience with digital products. Since then, Fintech had inspired me to consider a career move to Digital Banking.
When I began looking for Fintech programs, I had some difficulty finding one that met my needs. I was not sure about pursuing a Master's degree in Vietnam due to concerns about the practicality of the programs. However, after learning about the Master of Fintech program, an associated training program between the Normandie School of Management (EM Normandie) and IFI, I decided to enroll after reviewing the curriculum and list of lecturers.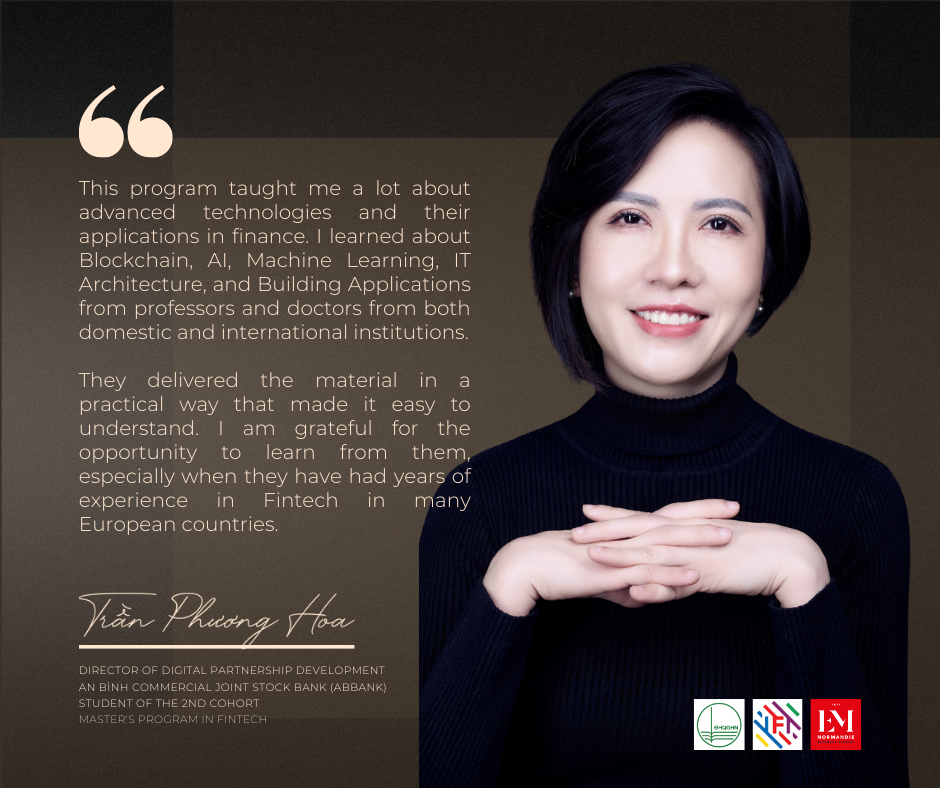 During your study, what is the most useful piece of knowledge that you can apply to your work?
My background is in business, mostly around providing traditional financial solutions. However, this program taught me a lot about advanced technologies and their applications in finance. I learned about Blockchain, AI, Machine Learning, IT Architecture, and Building Applications from professors and doctors from both domestic and international institutions. They delivered the material in a practical way that made it easy to understand. I am grateful for the opportunity to learn from them, especially when they have had years of experience in Fintech in many European countries.
An added bonus is the ease with which I can seek guidance from my teachers about work issues, or have them connect with leaders, entrepreneurs, and start-ups in the industry. Besides, I can network with so many peers in the same field. They are always supportive and willing to lend me a hand.
As a Director of Digital Partnership Development, how do you see the potential of Fintech in Vietnam compared to other countries around the world?
I believe Vietnam has tremendous potential for Fintech growth in the coming years. With a large population of tech-savvy smartphone users, digital financial services have become increasingly popular. Additionally, the prevalence of cash payments in Vietnam presents opportunities for Fintech companies to expand their market share. As demand for personal finance is expected to rise, Vietnam is likely to become an attractive market for Fintech products.
After completing the Master of Fintech degree at IFI, have you planned on any next move?
I will continue my current work in the field of partners, digital business, and the development of digital utility products and services. As for the long-term plan, I have the desire to participate in the process of unlimited digital transformation in all types of businesses because I always want to experience something new and challenging in this field.
Thank you for participating in the interview!